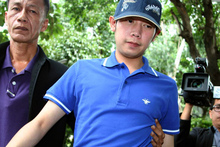 The family of the billionaire creator of the Red Bull energy drink have paid a "funeral fee" of £60,000 ($93,526) to relatives of a police officer killed in a hit-and-run accident allegedly involving the Thai tycoon's heir.
While the payment will shield Vorayuth Yoovidhya, 27, from a potentially huge civil action, it is likely to add to public angst over the incident.
Yoovidhya has been charged after his Ferrari sports car struck an officer this month and dragged his body down a Bangkok street for 100m.
The young man is accused of failing to stop, and other officers followed an oil trail that led to his father's house.
The heir to the Red Bull fortune has already been charged with causing death by reckless driving and fleeing the scene of a crime to avoid arrest.
If convicted, he faces up to 10 years in jail. But the 3 million baht paid last week to the officer's siblings will apparently protect him from civil action.
"We sometimes call this a funeral fee. If the victim's party is satisfied with the amount of money, then they will not seek compensation through a court," said Lieutenant Colonel Viradon Thubthimdee of the police.
Yoovidhya is the grandson of Chaleo Yoovidhya, who in 1987 helped create Red Bull with Austrian Dietrich Mateschitz. Mateschitz took the Thai entrepreneur's existing energy drink, already sold in Thailand, tweaked it for Western tastes and turned it into the world's biggest energy drink brand.
The creator died this year at 88.
His family were ranked the fourth-richest in Thailand this year by Forbes magazine and are said to have a net worth estimated at £3.6 billion.
They own a range of businesses, including shares in the energy drink brand, hospitals and real estate and are the sole authorised importers of Ferrari cars in Thailand. Yoovidhya's car was valued at about 30 million baht, 10 times the compensation paid.
The incident has created anger in Thailand, where the rich and powerful are often seen to escape justice. The police initially arrested another suspect in what appeared to be an attempt to shield Yoovidhya and his family.
Investigators are awaiting forensic results before deciding whether to lay more charges.
- Independent
By Andrew Buncombe