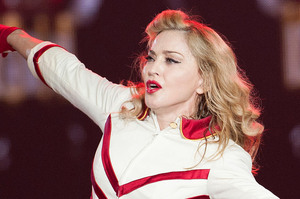 Pop diva Madonna has backed off a controversial statement where she urged fans to vote for US President Barack Obama in America's November election, but she raised eyebrows by calling him a "black Muslim."
In the clip reportedly shot during a concert on Monday night, she listed American icons Abraham Lincoln and Martin Luther King before turning to Obama, of whom she is a well-known supporter.
Watch the video here. (Warning: Strong language)
"And now it is so amazing and incredible to think we have an African American in the White House," she said in an expletive-laden speech, flanked by her troupe of black dancers at the show in Washington DC.
"Am I with you, and are you with me?" Madonna - who at one point admitted to feeling "a little dizzy" and repeatedly sucked on a bottled drink and blinked a lot - asked rhetorically, to whoops from the audience.
"So y'all better vote for... Obama, okay?" she added, before saying: "For better or for worse, all right, we have a black Muslim in the White House. Now that is... some amazing shit.
"It means there is hope in this country."
But later today, Madonna released a statement through a reprsentative claiming she was being "ironic."
"I was being ironic on stage. Yes, I know Obama is not a Muslim - though I know that plenty of people in this country think he is. And what if he were?
"The point I was making is that a good man is a good man, no matter who he prays to. I don't care what religion Obama is - nor should anyone else in America," she said.
More than one in three conservative Republican voters still thinks Obama - elected the first African American US president in 2008 - is a Muslim, nearly four years after he won power, a study showed earlier this year.
Overall, 17 per cent of 3000 voters asked in June and July thought Obama was Muslim, despite the Christian church-goer's repeated affirmations of his faith.
Obama is fighting for re-election against Republican challenger Mitt Romney and the country votes in six weeks' time, on November 6.
- AFP