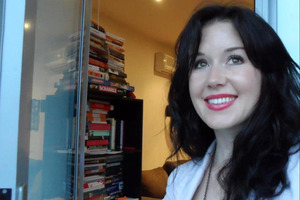 Missing Melbourne woman Jill Meagher may have fallen victim to a predator stalking the streets of Brunswick, one of the city's late-night bar and restaurant centres.
Meagher, 29, vanished after she left a bar early on Saturday morning to walk to her nearby home.
The only trace found since the disappearance was her handbag in a laneway slightly off the route she would normally have taken.
But police said yesterday the bag had been found by a passerby on Monday morning, after they had made a thorough search of the area.
Homicide detective John Potter said it could have been planted after their search.
"There are two options - either police in the original search missed the bag or the bag has since been placed at that laneway after the police searched it originally," he said.
Police are also investigating reports of other abduction attempts in the area around Sydney St.
Potter said several women had reported being attacked or being followed by a car.
Further reports - which will also now be investigated - were made on the Facebook page Help Us Find Jill Meagher.
Three women said they had felt threatened when they were separately followed by a car in the area, another said a relative had been grabbed by someone who tried to pull her into a car several months ago, and one said she had left Brunswick because of similar incidents.
One woman said she had been chased on foot by a "weirdo".
Police fear foul play and have widened their investigation.
Meagher, a unit producer for ABC Radio who arrived in Australia from Ireland three years ago, disappeared early on Saturday after drinking with friends at Bar Etiquette in Sydney Rd.
A friend offered to walk her the 700m to her home, but she declined. Her last contact was with her brother Michael McKeon, in a mobile call about 2am to ask after her father, who had recently suffered a stroke.
Meagher's husband, Tom, had expected her home by about midnight and became alarmed when she did not answer repeated calls.
He searched local streets without success before reporting the disappearance to police.