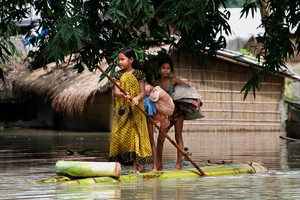 Flood affected children pole a raft in Burhabrhi village about 65 kilometers (41 miles) east of Gauhati, Assam state, India. Photo / AP
Floods have forced nearly 1.5 million people to flee their homes in northeastern India where authorities have declared a health alert, officials say.
"Eighteen of 27 districts of Assam have been hit by floods with 1.4 million displaced and 11 people drowned in separated incidents in the past week," the Disaster Management agency said in a statement.
The floods, caused by relentless rains, marked the second round of massive flooding in two months to hit India's impoverished northeast and come towards the end of India's June-to-September monsoon season.
Nearly 130 people died and six million were displaced by floods in Assam state in July.
Rescue officials said in the latest floods, at least 2200 villages had been swamped by overflowing waters from the rain-swollen Brahmaputra River.
Himanta Biswa Sarmah, the health minister of Assam state, told AFP that a "maximum health alert" to avert outbreaks of diarrhoea or diseases such as typhoid had been declared in the devastated zone.
The annual monsoon provides vital irrigation for India's farmers but also claims many casualties from flooding and landslides.
Officials said flooding victims had been evacuated to temporary shelters on higher ground.
"We've dispatched doctors and paramedics to ensure there is no outbreak of disease," Sarmah said in Guwahati, Assam's largest city.
Victims and an opposition party staged protests in flood-hit areas against what they said were shortages of emergency supplies in the Congress-ruled state.
"The government has failed to provide adequate relief supplies including food and medicines," said Sarbananda Sonowal, a local leader of India's main opposition Bharatiya Janata Party. "In many parts of the state people are even living without food," he added.
- AFP