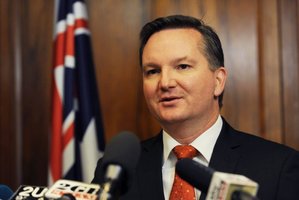 A group of Sri Lankans have chosen to return to their homeland rather than apply for asylum in Australia, where they faced being sent to a Pacific island for processing, the government said today.
Canberra has begun sending boatpeople to the tiny state of Nauru, and intends to send others to Papua New Guinea's Manus Island, as a disincentive to them risking their lives on the journey to Australia.
Immigration Minister Chris Bowen said 16 Sri Lankan men who were eligible to be sent offshore were voluntarily returning home and left on a flight from Christmas Island to Colombo today.
"These individuals chose not to pursue asylum claims and face transfer to a regional processing centre in Nauru or Papua New Guinea, and instead chose to return home voluntarily," Bowen said.
Conditions on Nauru are basic, with the government still building permanent accommodation.
Most asylum seekers are likely to spend their first months housed in tents.
Canberra has insisted that asylum seekers arriving by boat will gain no advantage in paying people-smugglers to bring to them Australia.
The government said they would have to spend the same amount of time on Nauru or PNG as they would have waited had they had their refugee status confirmed through official channels.
Bowen said transfers to Nauru would continue and warned that people-smugglers were "selling lies" if they were telling would-be refugees a visa would be available to them once in Australia.
"People who pay smugglers to risk their lives on a dangerous sea journey are throwing their money away, as demonstrated by the speedy return of this group," he said today. People arriving by boat will be sent to Nauru and Papua New Guinea."
Australia is battling to stop an influx of asylum seekers from arriving by boat after scores of drownings en route. Often they begin their journeys in countries such as Sri Lanka or Afghanistan and board rickety wooden boats in transit hubs in Asia.
-AFP