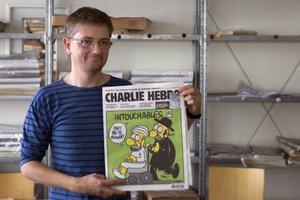 Fresh protests have erupted in the Muslim world over an anti-Islam film as a French magazine added fuel to the fire with the publication of obscene cartoons depicting the Prophet Mohammed.
France braced for a backlash over the cartoons, stepping up security at its embassies and banning demonstrations on its own soil as senior officials and Muslim leaders appealed for calm.
Sunni Islam's highest authority condemned French weekly Charlie Hebdo's publication of cartoons of a naked Prophet Mohammed.
Al-Azhar expressed "its and all Muslims' utmost rejection of the insistence of a French publication in printing caricatures offensive to Islam and its Prophet, the prophet of humanity,'' Grand Imam Ahmed al-Tayyeb said in a statement.
He said that such acts "that fuel hatred in the name of freedom are completely rejected... Freedom should stop (where it affects) other people's freedoms," in a statement carried by the official MENA news agency.
On Saturday, Tayyeb had called for an international ban on all forms of attacks against Islam after the airing the film Innocence of Muslims.
He underlined "the need for an international resolution (banning) any attack on Muslim religious symbols," in a statement addressed to UN Secretary General Ban Ki-moon.
The resolution should "criminalise attacks on Islamic symbols and on those of other religions, after the violence against those who provoked challenges to world peace and international security," said Tayyeb.
Vatican condemns publish decision
The Vatican's official daily Osservatore Romano condemned the decision to publish cartoons of a naked Prophet Mohammed as "fuel on the fire".
"The debatable initiative by the French magazine threatens... to add more fuel to the fire after the attack on the US consulate in Benghazi," the newspaper said.
"There is a risk of a new front in the protests," the daily said.
Freedom of speech a 'fundamental right' - France
But France's interior minister said freedom of speech, including caricature, was a "fundamental right" backed by the law.
Manuel Valls made the statement after meeting with French Muslim leaders angered by the cartoons, some of which depict the Prophet in the nude.
"Freedom of expression is a fundamental right. Freedom to caricature is part of that fundamental right," Valls told reporters when asked about the cartoons published by the satirical weekly Charlie Hebdo.
However he called for "everyone to act responsibly (as) each individual act, each text, each drawing, each declaration can... spark confrontations".
Valls also warned that any demonstrations that disturbed public order would meet with "a very firm response from the state".
Prime Minister Jean-Marc Ayrault suggested the magazine's editorial team should have taken the current context of widespread Muslim anger over an anti-Islam film into account when deciding whether to publish the cartoons.
Valls has said no protests against the film will be authorised in France following violence close to the US embassy in Paris last weekend.
French schools close in Egypt and Tunisia
French schools and cultural centres in Egypt will close today as a precautionary measure, the consulate said.
"Although there has been no specific threat in Egypt, it has been decided as a precaution and as in other countries, to close French schools and cultural centres in Egypt on Thursday September 20," it said in a statement.
In Tunisia, schools will close from Wednesday until Monday, the embassy said, adding that it has requested extra security.
"The French school network and Tunisia's French Institute will be closed from midday on Wednesday... until Monday morning," the embassy said.
"The embassy has asked the relevant Tunisian authorities to strengthen security around its sites,'' it said, adding that the mission would stay closed on Friday, when Islamist protests following weekly prayers are common.
Unlike most Arab countries, Tunisia follows the Western weekend, meaning that Thursday and Friday are normal working days.
"It's a preventative measure. We have not received any direct threats," an embassy source told AFP.