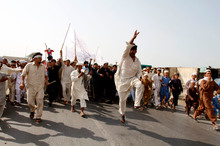 A suspected policeman has killed four Nato soldiers in Afghanistan, the US-led military says, in the latest apparent attack involving Afghan security forces killing their allies.
Nato's International Security Assistance Force (ISAF) did not provide further details but said the incident took place in southern Afghanistan, a hotbed of the Taliban-led insurgency.
Four ISAF "service members died today in southern Afghanistan following an insider attack suspected to involve members of the Afghan police," ISAF said in a statement.
Two British soldiers died in a similar attack on Saturday.
- AFP