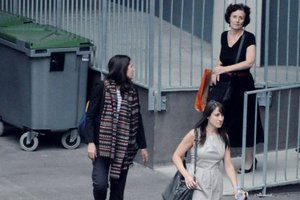 The oldest victim of last week's shooting of three members of the same family had for years suffered from beatings at the hands of her mentally unstable son, say legal documents obtained by AFP.
Suhaila Al-Allaf, who was shot dead last week together with her daughter Iqbal and son-in-law Saad al-Hilli, had suffered years of violence from her son, said the legal documents from Sweden.
Haydar Thaher, 46, had repeatedly "insulted, threatened and beaten his parents over a very long time", said one document.
Police had been called out to their home in the southern suburbs of Stockholm eight times between 2001 and 2007. Thaher still lived at home because of mental health problems, the documents added.
In the transcript of one interview, the parents say they think their son might be schizophrenic.
The overall impression left by the documents is of an irascible individual, who lashes out physically as soon as he feels threatened.
In 2003, a Swedish court had Thaher placed under guardianship and the following year his father, Abdul-Amir Al-Saffar, reported that his son had threatened to kill him.
In 2006, after the police were called out once again, Thaher had been transferred to a psychiatric unit for care. The following year he had been briefly detained after attacking his parents.
He was freed after they declined to press charges.
A source close to the French investigation confirmed Allaf's identity to AFP on Thursday.
Varg Gyllander, a spokesman for Swedish national police, refused to comment on any possible cooperation with the French police into the murder investigation.
Suhaila Allaf, Saad and Iqbal Hilli were all killed in last week's attack, near Annecy, on the edge of the French Alps, as well as a passing cyclist, Frenchman Sylvain Mollier.
Allaf's seven-year-old granddaughter Zainab al-Hilli is in hospital, having suffered serious head injuries; Zainab's four-year-old sister, Zeena, survived unhurt after hiding under the skirts of the dead women for eight hours.
- AFP