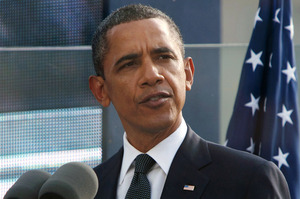 President Barack Obama will not receive Israeli Prime Minister Benjamin Netanyahu during his visit to the US later this month, both sides said today, amid growing tensions between the allies over Iran's nuclear programme.
Netanyahu, who will be attending the United Nations General Assembly in New York, had asked for a meeting with Obama, proposing to travel to Washington for it, an Israeli official told AFP.
"So far the response has been that Obama's very tight schedule does not allow such a meeting," the official said.
The White House too insisted that it was a matter of scheduling.
The announcement, coming shortly after Netanyahu rebuked the US for refusing to set a clear "red line" for Iran to avoid military action, represents a new low in the uneasy relationship between the two leaders.
Both Israel and the US suspect Iran is seeking at least the capability to build an atomic bomb but they are at odds over how best to stop that.
Over the past week, Netanyahu has repeatedly driven home the need to lay down a "clear red line" for Iran in order to avoid military action.
But Obama's administration, which is suggesting there is still time to allow sanctions to take effect, is flatly refusing to do so.
On Monday, Secretary of State Hillary Clinton said the US was "not setting deadlines" on Iran, and State Department spokeswoman Victoria Nuland told reporters that "it is not useful to be parsing it, to be setting deadlines one way or the other, red lines."
To this Netanyahu retorted: "Those in the international community who refuse to put red lines before Iran, don't have a moral right to place a red light before Israel," in a Tuesday meeting with his Bulgarian counterpart Boyko Borisov.
In an attempt to lower the tensions between the sides, Israeli Defence Minister Ehud Barak said later in the day that the "differences" between the US and Israel must be clarified "with openness, but in closed forums."
"We must not forget that the US is Israel's main ally," Barak said in a private forum. "We must also remember the significance of our partnership with America and do everything possible not to harm this."
Israel, the Middle East's sole, if undeclared, nuclear power, says a nuclear Iran would constitute an existential threat for the Jewish state and has refused to rule out a military strike to prevent it from gaining such a capability.
It is portraying Iran as on the verge of securing nuclear weapons and warned US officials of the imminence of a stage in which it would be too late to carry out bombing raids to derail Tehran's programme.
But the US is confident it would have sufficient time to prevent such a scenario, as articulated by Defence Secretary Leon Panetta in a television interview Tuesday.
The Pentagon chief told "CBS This Morning" that it would take Iran some time to construct a nuclear device once the Tehran leadership chose to go ahead.
"It's going to take them a while once they make the decision to do it," he said.
Asked how much time it would take, Panetta replied: "It's roughly about a year right now. A little more than a year.
Panetta said US spy agencies are able to track Iran's nuclear project and assess how close the Islamic republic may be towards achieving the capability to build an atomic bomb.
"We have pretty good intelligence on them. We know generally what they're up to. And so we keep a close track on them," he said.
Iran insists that its nuclear programme is for peaceful power generation and medical purposes only.
- AFP