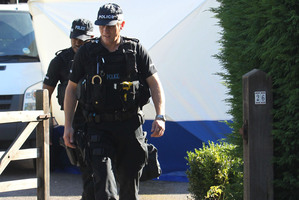 Police have evacuated homes near the house of a British-Iraqi family murdered in the French Alps and called in a bomb squad, British media have reported.
A bomb squad was called in after police examining the Surrey home of Saad al-Hilli discovered "concerning'' items, the Daily Mail website said.
Police had cordoned off the street surrounding the home in Claygate and evacuated neighbours.
Mr al-Hilli, 50, his wife and mother-in-law were shot dead, along with a French cyclist, at Chevaline last Wednesday.
The couple's two young daughters survived the attack.
BBC reporter Keith Doyle said officers from the Royal Logistics Corps bomb disposal unit had arrived at the family home.
He said earlier that police seemed to be removing items from the house.
Surrey police said in a statement: "Due to concerns around items found at the address in Claygate, officers have extended the cordon around the property.
"Neighbours in the immediate area are being evacuated. We will provide more information when we have it."
- APNZ