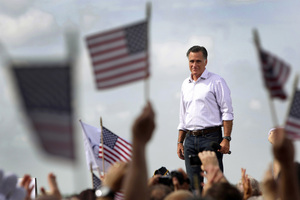 Republican White House challenger Mitt Romney has slammed Barack Obama's "jobless recovery", seeking to tame the president's polling spurt following the Democratic National Convention.
Romney accused Obama of failing to stop Iran's nuclear drive and reiterated on NBC's Meet the Press that he was not plotting to give millionaires a huge tax cut if elected on November 6.
Obama, in a competing television interview, said the most affluent Americans needed to be ready to pay higher taxes to ensure the nation's yawning budget deficit could be closed without punitive cuts to social programs.
"It's a jobless recovery, if it's a recovery at all," Romney said, highlighting data showing the economy created only 96,000 jobs in August.
"You're not seeing the kind of job growth that keeps up with population growth. You're not seeing any wage growth. It's not at all what a recovery's supposed to look like."
Romney said he doubted a move by the Federal Reserve to boost the economy would have any impact on the jobs market in the short term.
"What the nation needs is a change in fiscal policy. A different structure to our economic positions," he said. "And if we take the right course I believe you're going to see this economy come roaring back."
Romney denied Obama's claims he was planning a tax cut for wealthy Americans that would be funded by the middle class. "I can tell you that people at the high end, high income taxpayers, are going to have fewer deductions and exemptions.
"Despite what the Democrats said at their convention, I am not reducing taxes on high income taxpayers."
Obama, on the second day of a bus tour through Florida, the largest battleground state, effectively argued that Romney's tax plans did not add up.
"You can't reduce the deficit unless you take a balanced approach that says, 'We've gotta make government leaner and more efficient'," he told CBS news.
"But we've also got to ask people - like me or governor Romney, who has done better than anybody else over the course of the last decade, and whose taxes are just about lower than they've been in the last 50 years - to do a little bit more."
Later, in his first rally of the day, Obama mocked Romney's interview and another by Republican vice-presidential nominee Paul Ryan, saying they were unable to reveal how they would make their tax plans add up.
"It was like two plus one equals five!" Obama said.
- AFP