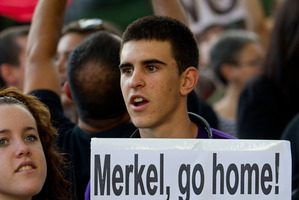 Willing or not, Spain is heading towards a full-blown bailout with International Monetary Fund (IMF) supervision, strict conditions and the threat of even more painful austerity cuts.
Spain, the eurozone's fourth-biggest economy, insists it will not be rushed down the path to seeking a new form of bailout unveiled by the European Central Bank (ECB) on Thursday.
Under the scheme, the ECB said it would buy as many government bonds as needed on the open market to bring down a distressed state's borrowing costs but with one significant condition.
To qualify, the state must apply to the eurozone bailout funds for a rescue and submit to their strict conditions including IMF supervision, which is political poison in Spain.
The Spanish government has already accepted a eurozone rescue loan of up to 100 billion euros (A$123.59 billion) to save banks still struggling after a property market crash in 2008.
Now, even with high long-term borrowing costs, about 30 billion euros in debt repayments due in October, a deepening recession and an unemployment rate of nearly 25 per cent, it is reluctant to rush to a sovereign rescue.
"These are decisions that cannot be taken off the top of your head nor overnight," Deputy Prime Minister Soraya Saenz de Santamaria said after a cabinet meeting on Friday.
"Matters that are so important for the public interest and for the future of Spaniards must be analysed with calm and prudence."
But economists suggest Spain should move with haste.
"The sooner the request is made the better given the elevated public financing needs up to the end of the year, as much at the Treasury (83 billion euros) as the regions (33 billion euros)," analysts at Spanish brokerage Renta 4 said in a statement.
If the market even suspects Spain is not seeking a rescue, its borrowing costs would soar and the nation would be forced into an emergency bailout, said analysts at Link Securities.
"This scenario would be absurd considering the plan that has been outlined by the ECB," it said in a report.
The government has already announced plans to claw back 102 billion euros by 2014 with austerity cuts and tax increases as it battles to rein in a public deficit that has alarmed markets.
After far exceeding its targets last year, when it posted a public deficit of 8.9 per cent of gross domestic product, Spain is now committed to reducing the shortfall to 2.8 per cent in 2014.
But Prime Minister Mariano Rajoy made clear to German Chancellor Angela Merkel that he was reluctant to touch pensions.
All eyes are on Germany again this week for a decision that could prove decisive in the seemingly never-ending battle to save the euro.
The German Constitutional Court will decide on Wednesday whether German President Joachim Gauck can sign into law the European Stability Mechanism (ESM) and the European fiscal pact.
While polls suggest that the majority of Germans believe the court should block both instruments, analysts predict it will not.
Instead, it could demand clarifications or legal amendments that might further delay ratification by a few more weeks, analysts suggested.
-AFP