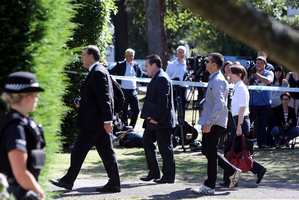 French and British police on Saturday (local time) searched the home of a British family murdered in the French Alps, as autopsies revealed each of the four victims was shot twice in the head.
Saad al-Hilli, 50, a naturalised Briton of Iraqi origin, his wife Ikbal and his 74-year-old mother-in-law were shot dead as they sat in their car outside the village of Chevaline in eastern France.
A passing French cyclist, 45-year-old Sylvain Mollier, was also killed while elder daughter Zainab, 7, was seriously wounded and Zeena, 4, escaped by hiding under her dead mother's skirts.
"All four were killed by several bullets and all four were hit twice in the head,'' prosecutor Eric Maillaud told reporters in the lakeside resort of Annecy near where Wednesday's horrific shooting took place.
"The whole scene was played out in a very, very short time.''
The prosecutor refused to elaborate on his remarks, but they will inevitably strengthen the impression held by many experts on crime that the attack was the work of professional killers.
As he spoke five gendarmes led by Colonel Marc de Tarle were in Britain to work on the case, though they did not all visit the family home.
A French police source told AFP the search would be "very long'' and would go "beyond the day,'' while de Tarle told reporters, "This is an inquiry which is turning out to be long and complex.''
Forensics officers in protective overalls entered the family's house in a quiet commuter village outside London to look for clues to the killing.
A party including at least two French police officers in civilian clothes was escorted into the large mock-Tudor fronted house in Claygate, some 25km southwest of the British capital.
Scene of crime officers erected a tent outside the front door and put on blue and white overalls, face masks and hair nets to begin the process of searching for evidence.
Carrying clipboards and cameras and wearing blue gloves, the forensics team went into action as uniformed British police officers guarded the entrance gate.
Meanwhile a male and a female relative of the two girls who survived arrived in France on Friday night accompanied by a British social worker, though it was not known when they would be able to see them.
The traumatised youngest child Zeena has been in the care of French authorities since the attack.
Investigators were unable to obtain much useful information from her so far and are hoping her elder sister Zainab can provide some clues once she emerges from her coma.
Maillaud said on Saturday it was hoped to question her as soon as possible but also as delicately as possible.
The interview will be carried out by specially-trained police, assisted by an interpreter and with a British diplomat present. It will also be filmed in accordance with French law.
Maillaud said he could not divulge any details of the ballistic analysis of the bullets recovered from the four bodies without compromising the investigation.
He also said French police would be interviewing the brother of Saad al-Hilli but he warned that speculation that a financial dispute between the two brothers may have led to the killing was not based on any firm evidence.
In an apparent swipe at British colleagues when pressed on information said to have come from them about the brothers' financial affairs, he added: "I would prefer that the English police would be more discreet on this matter.''
Maillaud said the search of the home would help to build up a profile of the family, while stressing that there should be no presumption that they were involved in any activity which might have made them targets.
"I think we have arrived at the limit of what can be said, or resaid or released to the public,'' Maillaud said, announcing that he would not be holding any more press conferences until the middle of next week.
French authorities have expanded the area of their search around the scene while police in neighbouring Switzerland and Italy are also helping.
"Italy is an hour and a half away, Switzerland an hour away. Investigators have asked for help of all neighbouring countries,'' Maillaud told I-Tele television.
Britain's Sky television, quoting unnamed sources, said French police had discovered two mobile phones inside the car but did not give any more details.