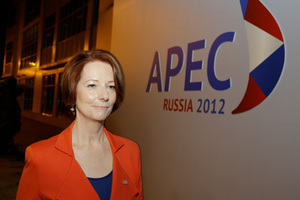 Julia Gillard is leaving the APEC meeting in Vladivostok, eastern Russia and returning home upon the news that her father has died, officials said today.
The Australian prime minister's parents John and Moira lived in Pasadena in South Australia.
They moved from Wales to Adelaide in 1966 after learning that daughter Julia, born in 1961, suffered bronchopneumonia and the warmer climate in Australia would help the condition.
Mr Gillard, who was 93, worked as a psychiatric nurse but before that had been a coal miner.
She has a sister Alison, who is three years older.
-Newstalk ZB