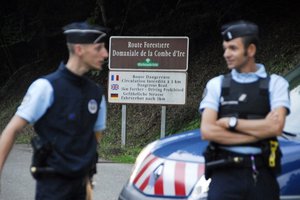 Four people were killed and a young girl left fighting for her life following a mysterious shooting centred on a British-registered car in a French Alpine beauty spot.
The car, a BMW, was found with the bodies of a man, in the front, and two women who were seated in the back, local police said.
The body of a second man, a cyclist, was found on the ground just to the right of the car while a seriously wounded girl was discovered on the left of the vehicle, which was surrounded by dozens of spent cartridges.
The girl was in a critical condition after being taken to hospital in the regional capital Grenoble by helicopter.
Local prosecutor Eric Maillaud had earlier mistakenly told journalists she had died.
The car was registered in Britain, Maillaud said in a briefing to reporters in Chevaline, located close to Lake Annecy in the Haute-Savoie area of eastern France.
The shooting took place in a tree-lined car park on the edge of the picturesque village that is popular with tourists and second homeowners from all over Europe, including many Britons.
"We haven't yet been able to establish the nationality of the victims,'' said Maillaud, who did not have access to the car pending forensic examinations.
"For the moment we have not been able to establish a theory about what has happened here.''
A spokesman for the Foreign Office in London said: ``We are aware of the reports of the shooting and we are looking into these urgently.''
Police sources told AFP late Wednesday that the identity of the car had been been established but that the identity of the victims had not been established.
The bodies were discovered by another cyclist at around 3:50 pm (1.30am NZT). He was being questioned by police on Wednesday evening.
Police had sealed off the area around the car to allow forensic experts to go over the scene before the corpses were removed. Maillaud said they would be taken to Grenoble for autopsies.
Around 60 gendarmes were involved in a search for potential clues which continued after nightfall.
The position of the bodies in the car and the large number of cartridges found at the scene suggest the killing could have been the result of an armed robbery that the cyclist may have inadvertently interrupted.
But there was no immediate comment on that hypothesis from the prosecutor or police at the scene.
The prosecutor said he would be giving an update on the course of the investigation in a press conference at 2:00 pm Thursday (12pm NZ time) in the nearby town of Annecy.

- AFP