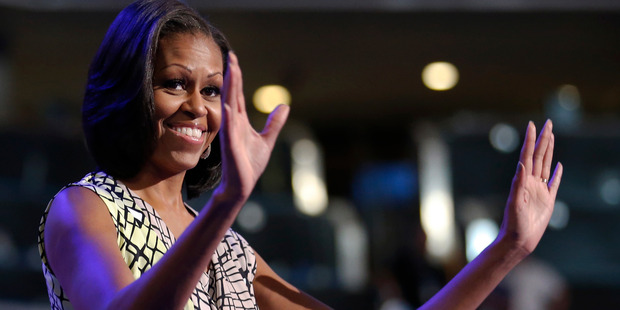 Four years ago Michelle Obama promised America her husband, despite his funny name, would be an "extraordinary president."
Later today, she will have to convince voters she was right.
More popular than her husband, the First Lady kickstarts the Democrats' 2012 convention with a prime-time address in Charlotte, North Carolina that marks another step on her path from reluctant campaigner to political heavy hitter.
While First Ladies since Nellie Taft 100 years ago have waded into the turbid waters of US presidential politics, Michelle will reprise the modern role of providing a humanising antidote to the hyper-partisan caricatures of the day.
It was before a stadium packed with supporters in Denver, Colorado four years ago that the Harvard and Princeton-trained lawyer made her debut on the world's biggest political stage.
Then she sought to show Americans that the Obamas were indeed like them, but also that Barack was a little bit special.
She also began to tell her own story - that of a devoted mother and wife who made an improbable journey from the poor South Side of Chicago to the storied corridors of power in the White House.
She spoke touchingly of Obama playing basketball with her six foot six brother and of her now deceased father using two canes to get across the room to kiss her mother.
In recent months, as the first black First Lady, with charm, hidden steel and growing political skill, she has injected some much-needed verve into her husband's battered brand.
She has headlined over 70 fundraisers since April, and in Charlotte has been drafted to not only headline the first night of the convention, but to lead a slew of side events to woo African American, Hispanic, gay, military and women activists.
Since occupying the East Wing of the White House she has also built goodwill with healthy eating and fitness campaigns, and a drive to help families of military veterans.
"She's the first fashionista, the mom-in-chief, the first gardener, the cool aunt - she's Oprah with good arms," said Robert Watson, an expert on First Ladies from Lynn University in Boca Raton, Florida.
"I don't know if it's rebranding or we're finally getting the real Michelle. Whatever it is, it's very effective."
Born Michelle LaVaughn Robinson on January 17, 1964, she rose from a humble upbringing to go to two of the most prestigious US universities.
She worked in corporate law, as director of a community non-profit in some of Chicago's less moneyed neighborhoods, and at the University of Chicago and its medical center.
But she has not been without detractors.
In the 2008 campaign an affectionate tap of clenched fists with her husband was dubbed "a terrorist fist jab" and she was called "unpatriotic" for an unguarded comment in which she said the public support for her husband made her proud of her country "for the first time in my adult lifetime."
A lavish trip to Spain in 2010 was panned by critics and mocked by conservative radio talk show hosts as evidence of undue entitlement.
- AFP