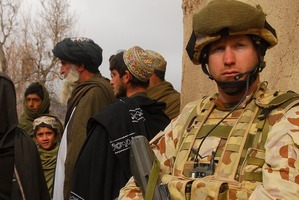 Foreign Minister Bob Carr said an early withdrawal of Australian troops from Afghanistan would damage Australia's reputation.
And he said bringing forward the scheduled 2014 pull-out date would benefit neither country.
"Australia making a dash for it - that would do our reputation enormous harm," Senator Carr told Sky News today.
The deaths of five diggers in 24 hours in Afghanistan last week prompted fresh criticism at home of Australia's continued military involvement in the war-torn country.
Three were killed by a rogue Afghan soldier, taking to seven the number of Australians who have died in so-called "green on blue" attacks.
Senator Carr said all serving nations in Afghanistan were weary, but their resolve remained to leave the country in better shape than when the coalition forces first arrived in late 2001.
"No one wants to be there in this very difficult war, this unpopular war, a day longer than we need to be. The choice is between a planned phased withdrawal and a rush to get out," he said.
"That would be very disruptive to the biggest coalition in history - 50 nations - all of whom have a commitment in setting up a sovereign Afghanistan, a functioning country that won't allow its territory to be a base for terror strikes against the West."
He said the size of the Afghanistan security forces had increased by 100,000 in the past two years, but it was a matter of training them and judging their ability to lead the operations now undertaken by coalition security forces.
Prime Minister Julia Gillard said in April that most Australian troops would leave Afghanistan within 12 to 18 months as the transition to self-governance and security occurred in the Asian nation.
-AAP