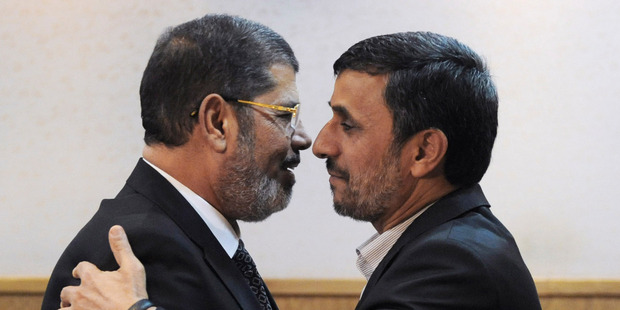 Iranian President Mahmoud Ahmadinejad (right) and his Egyptian counterpart, Mohammed Morsi. Photo / AP
In a sweeping message that Iran is on the wrong side of Syria's civil war, Egypt's new President has urged the world to support the rebels seeking to topple Bashar al-Assad and suggested that Tehran could risk a deepening confrontation with regional powers over the fate of the regime in Damascus.
The stinging comments by President Mohammed Morsi - making his first visit to Iran by an Egyptian leader since the 1979 Islamic Revolution - was another blow for Iran as host of an international gathering of so-called non-aligned nations this week.
His speech, delivered while seated next to Iranian President Mahmoud Ahmadinejad, prompted Syria's delegation to walk out of the gathering. Iran's leaders claimed that the week-long meeting displayed the futility of Western attempts to isolate the country over its nuclear programme.
But Iran also endured criticism from Morsi and UN Secretary-General Ban Ki Moon, who cited concerns about Iran's human rights record and called its condemnations of Israel unacceptable.
It's highly unlikely that Iran would abandon Assad as long as there is a chance for him - or at least the core of his regime - to hang on. Iran counts on Syria as a strategic outlet to the Mediterranean and a conduit to its anti-Israeli proxy Hezbollah in Lebanon. But the meeting highlighted how much Iran is out of step with the rest of the region over Syria. Other major rebel backers at the conference included Gulf states led by Iran rival Saudi Arabia.
"The bloodshed in Syria is the responsibility of all of us and will not stop until there is real intervention to stop it. The Syrian crisis is bleeding our hearts," Morsi said at the 120-nation Nonaligned Movement, a group of nations that Tehran seeks to transform into a powerful bloc to challenge Western influence.
A major effort by Iran has been to showcase its nuclear narrative and cementing oil deals and trade with Asia and Africa to offset the hits from Western sanctions. But some critics question whether the group is too diverse and splintered, by issues such as Syria, to find any common policies.
"Morsi's comments violated the traditions of the summit and are considered interference in Syrian internal affairs," said Syrian Foreign Minister Walid al-Moallem, who headed the Syrian delegation. He also accused Morsi of "instigating bloodshed in Syria", according to state-owned Al-Ikhbariya TV. He didn't elaborate.
Morsi's address pushed Iran further into a corner. In effect, he demanded Iran join the growing anti-Assad consensus or risk deeper estrangement from Egypt and other regional heavyweights such as Turkey and Saudi Arabia.
Morsi has proposed that Iran take part in a contact group that would include Egypt, Turkey and Saudi Arabia to mediate an end to the Syrian crisis. Ban also said Iran has a key role to play in finding a solution to end Syria's civil war. But Syrian rebels say they reject Iran's participation in any peace efforts.