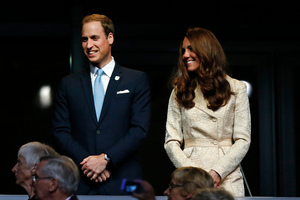 Prince William's wife Catherine will make her first speech in a foreign country when the couple visit South-East Asia and the South Pacific next month to celebrate Queen Elizabeth II's 60-year reign.
The former Kate Middleton will address staff and patients at a Malaysian hospice, St James's Palace has announced.
The first engagement for the Duke and Duchess of Cambridge, as they are officially known, will be an orchid naming ceremony in Singapore when flowers will be named after them.
In a poignant moment, the couple will see an orchid named after William's mother Diana, Princess of Wales, who died 15 years ago tomorrow.
The royals are also expected to wear traditional dress when they visit the Solomon Islands and Tuvalu, as well as travel by canoe at one point.
The royal couple will be in Singapore from September 11-13 and then go on to Malaysia, where they will tour Kuala Lumpur and Sabah, from September 13-15.
They will be in the Solomon Islands between September 16-18, and the final stop is Tuvalu on September 18-19.
- AFP