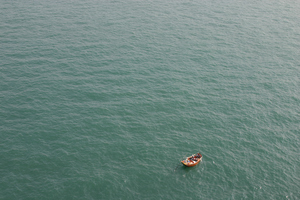 The federal government has backed an expert panel plan to break the asylum seeker policy deadlock on boat arrivals.
Prime Minister Julia Gillard said on Monday the Labor caucus agreed to endorse in principle all 22 of the panel's recommendations.
"This report charts the way forward and I will compromise in order to enact the recommendations of this report," Ms Gillard told reporters in Canberra on Monday.
"I am keenly aware that what this report is calling on parliamentarians to do is compromise," she said.
Ms Gillard says the government will on Tuesday introduce amendments to its offshore processing bill to enable offshore processing of asylum seekers in Nauru and Papua New Guinea as soon as possible.
"And we will do what the report recommends, which is seek to enter some further discussions with Malaysia on protection in the Malaysia agreement and on oversight," she added.
The government has also endorsed in principle the recommendation to boost Australia's annual humanitarian intake to 20,000.
Immigration minister Chris Bowen said parliament cannot "miss this opportunity tomorrow", when the amendment legislation was introduced.
"The panel has provided the parliament with one last opportunity to embrace what is a commonsense solution," he told reporters.
Ms Gillard said she wanted the legislation passed by Thursday.
"If the opposition co-operates, the minister would then make the relevant determinations for processing on Nauru and PNG immediately," she said.
If the opposition supports the new laws, Ms Gillard says arrangements for all the 22 recommendations will commence "in a number of days".
Ms Gillard appointed the panel in June, after parliament failed to pass offshore processing laws in the wake of twin asylum-seeker boat disasters.
Ms Gillard said plenty of politicians had already claimed the report had vindicated their positions.
"The truth of this report is it's endorsed some parts of the government's policy but not all of it, and the same can be said for every other political party," she said.
The panel had also recommended new policy ideas, she said.
The government would be working through the rest of the report's recommendations over the coming weeks and months.
Ms Gillard said the government remained committed to the Malaysian deal but conceded its future was uncertain because under the proposed new laws, the coalition and Greens could block it.
Immigration Minister Chris Bowen said the panel's report made it clear that Opposition Leader Tony Abbott's proposal to turn boats back to Indonesia could not happen without Jakarta's approval.
"It now up to Mr Abbott to say whether he maintains his position," he said.
Ms Gillard called on the coalition to back the panel's plan, saying the Australian people were sick of the deadlock.
"They're over it, I'm over it, we're all over it. It's time to get something done," she said.
"We want an outcome here, we want change, we don't want pedantry and politics."
- AAP