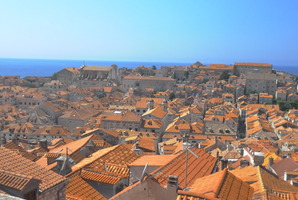 The sun beats down Dubrovnik .Picture supplied 8 AUG 2012 NZH 11Aug12 - The shelling of world-heritage site Dubrovnik 20 years ago hastened international recognition of the breakaway state of Cro
Croatia seeks final closure on its recent brutal war when it gets to join the European Union next year.
The August sun beats with a fiery heat on the fortress walls that enclose the delightful old port of Dubrovnik.
Visitors gaze down at a jewel, a cluster of streets and alleyways, exquisite baroque churches and a historic bell tower whose pencil shape pierces the azure sky.
Croatia calls Dubrovnik the "Pearl of the Adriatic", a tourist-brochure blurb that for once is true, for the little town looks almost unchanged from the 18th century.
Yet closer inspection shows the scars of the traumatic yet recent past. Some of the beautiful stone buildings are pocked by shells and most roofs are clad in new orange-red clay tiles, the result of a brutal siege 20 years ago.
After Croatia declared it would bolt from Yugoslavia, Serbian-led forces tried to grab Dubrovnik and retain it for the failing federation of Balkan states.
The Serbs fired more than 2000 shells from land and sea, killing 114 civilians, including Milan Milisic, a celebrated poet and translator of Tolkien, and causing 15,000 of its 50,000 people to flee. Fifty-six per cent of the buildings in the historic walled city suffered damage to some degree.
Yet the siege succeeded only in hastening international recognition of the breakaway state, driven by disgust at the attack on a Unesco heritage site.
The conflict came to an end in 1995, enabling Croatia to become a fully fledged country, with all the totems of statehood. Yet even today, Croatia thirsts for strength, stability and final closure to the Balkan nightmare. It sees salvation in what, right now, is a pretty unfashionable place: the European Union.
In July next year, Croatia will become the EU's 28th member, a move that will mean surrendering many areas of the sovereignty that it fought to achieve. Within a few years, it could even ditch the cherished national currency, the kuna - named after the marten pelts that were used for trading in mediaeval Dubrovnik - and replace it with the euro, which has been on life support for more than a year.
"By accepting Croatia in the Union, the EU will be faced with the new experience of including a country that has recently been at war and where that war is still much remembered and celebrated. It will accept a member that bases much of its contemporary political identity on the notion of being both a winner and a victim of a war that Europe considered unfortunate and unnecessary," notes political analyst Dejan Jovic of Zagreb University, who is also a counsellor to Croatian President Ivo Josipovic.
Legend has it that "Balkans" comes from two Turkish words, one meaning "blood", the other "honey". Yet many Croats see only the bitterness and none of the sweetness and view "Europe" - the EU - as the shift to the west that they crave.
Their country of 4.3 million straddles a triple fault line in the world's religions - Orthodox Christianity, embraced by the Serbs; Islam, followed by most people in Bosnia-Herzegovina and the former Serbian province of Kosovo; and Roman Catholicism, the "western" version of Christianity observed by many Croats.
In January, two-thirds of Croatians who voted endorsed the country's entry into the EU, in a campaign that saw all the major parties support membership.
"It is a historic decision ... possibly a turning point in our history," Prime Minister Zoran Milanovic said.
But turnout, at 43 per cent, was low, reflecting reservations about the future of the euro and nationalist resentment over EU demands that suspected Croatian war criminals be handed to international justice for trial.
Croatia's path was already taken by the former Yugoslav state of Slovenia in 2004. Montenegro, Bosnia-Herzegovina and Macedonia all hope to follow suit. So does Serbia, which has met EU demands to hand over alleged war criminals but could remain an outsider so long as it rejects the independence of its former province, Kosovo. EU integration is the "only path through which we can leave conflicts behind us and open up new chapters of peace, tolerance and cooperation," says Serbian President Boris Tadic, a moderate.
Analysts say EU membership has many advantages for states with a troubled past, helping them to subsume rivalries through trade and cultural ties. Internationalisation helped cement friendship between World War II enemies France and Germany and between the Czech Republic and Slovakia, whose partnership ended in a "Velvet Divorce" in 1993.
Pawel Swidlicki, an analyst with the Open Europe thinktank in London, says the attraction of joining the EU is for political stability. "For East European and Balkan countries, the EU is still upheld as a symbol of the rule of law and democracy.
"Joining the EU, especially for the political elite, is seen as a way of embedding these nationally. Look what happened in countries such as Poland and Czech Republic, for example."
On the other hand, it weakens national sovereignty, sometimes exacerbating tensions within a country, as has been the case in Belgium, Spain and Italy, where regional frictions are strong.
Jovic notes that previous EU enlargements have proved politically useful to liberal and nationalist groups.
"While the former use the new institutional set-up to advance their liberal agenda and defeat local nationalism, the nationalists also use EU membership to consolidate their own discourse and respond to the challenges of globalisation," Jovic said. "It will be a challenging experience and one that is likely to have a major impact on the EU integration of other Western Balkan states in the future."