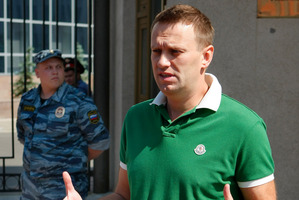 Russian protest leader Alexei Navalny has accused the authorities of planting a bug and a video recorded in his office as part of their effort to keep a tight rein on President Vladimir Putin's foes.
The 36-year-old corporate lawyer said his colleagues had just returned from their summer holiday and decided to scan the office of his Anti-Corruption Fund with a special detector as a joke.
"We began with my office - just for laughs," Navalny wrote on his blog.
The group found itself removing the lower section of the floor moulding a few minutes later when the device began making its loudest noises near Navalny's desk.
Russia's rising political star then posted several photographs showing what looked like a black microphone attached to thin red and white wires that ran along the wall and disappeared into an opening used by other cables.
He later posted a video showing police officers inspecting a large video camera that had been spying on Navalny's office through a tiny opening in the wall.
One of the investigators can be heard saying the device was operated by remote control and switched on at specific moments of a conversation.
Another woman who apparently works with Navalny is then heard saying that a strange van could often be seen parked outside their front door.
The findings came a month after unknown hackers broke into Navalny's emails just as he was being probed about his role in bloody clashes that broke out on the eve of Putin's return to a third term in May.
Navalny used the characteristic deadpan humour that made him into one of Russia's most widely read bloggers to blame powerful Kremlin security agents for the surveillance equipment.
"Here it is - the bug of Czech agent (Alexander) Bastrykin," Navalny tweeted in reference to the powerful head of Russia's Investigative Committee.
Navalny recently accused Bastrykin of secretly owning property and running a business in the Czech Republic that he allegedly used as cover for his spying activities in the past decade.
Putin's close ally denied the charges and the Kremlin has only said it was ready to look at any proof that Navalny could offer.
Bastrykin's office last week also filed embezzlement charges against the protest leader linked to an old regional business case that may put Navalny in jail for 10 years.
- AFP