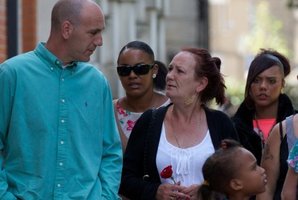 Family and friends of the man whose fatal shooting by police sparked riots across England a year ago have gathered in London to honour his memory.
About 100 people turned up to Tottenham Town Hall in north London on Sunday ahead of a memorial service for 29-year-old Mark Duggan, who was shot in the chest at the nearby Ferry Lane bridge on August 4 last year.
Supporters were met by a small band playing uplifting ballads and teenage girls handing out refreshments. A dozen yellow roses had been taped to the railings at the spot where Duggan died.
"Life is so short, they've just taken him," said Duggan's tearful sister Paulette, during an emotional service.
"Most of the young today feel like they don't have a chance."
Brother Jason revealed the family was still "none the wiser" about the ongoing police investigation into the shooting.
It was impossible to "get the closure we need" until it was published, he said.
Last year, local protests against the shooting turned violent and within days a wave of looting and arson had spread across English cities, leaving five people dead and causing millions of pounds worth of damage to property.
On Friday, Duggan's mother made a plea for justice, saying the family had still not received a full explanation of how her son died.
A provisional date for an inquest into Duggan's death has been set for January next year.
Initial reports the father-of-four had fired at officers were dismissed after tests found a bullet that had lodged itself in one officer's radio was police issue.
Scotland Yard were also forced to apologise to Duggan's parents after an inquiry found police had failed to formally notify the family of his death.
-AFP