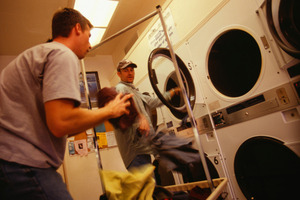 Photo / Thinsktock
Strange conversations from a laundromat, part 1.
"How come you don't have to do any laundry," said one American, removing his longs and smalls from a tumble dryer, to another.
"Because I packed for 30 days," said the other American. "I even packed a raincoat," he continued.
"I packed plenty of raincoats," said the original American, by now folding his clothes neatly into a carry bag. "I'd say I've gone through a dozen at least."
At which point all the machines seemed to stop as us launderers peered over the top of newspapers to see who this between-the-sheets athlete was.
"Don't look at me disapprovingly," said embarrassed raincoat man to the quiet(er) American, trying hard to fill the suddenly awkward silence, "I get that enough from everyone else."
There wasn't too much to the bloke, to be honest, apart from a bit of Noo Yawk confidence, a ropey tattoo and designer sunglasses. But it was nice to know it was not just athletes at the village taking advantage of the loosening social standards that go hand-in-hand, so to speak, with the Olympics.
The other night, while returning from dinner with a colleague, Dennis - his name was helpfully on the back of his business card - stepped out of the shadows and tried to convince us the night was still young and wouldn't be complete until we had visited Secrets 5 of Euston to witness its "continuous stage entertainment".
Dennis reckoned we would meet the girls of our dreams there. Judging by his card, that would only be true if girls that came to you in your sleep had classic Eastern European features and pneumatic chests.
It's a rare day when there's not some sort of story linking the Olympics to sex, or vice versa, such as this screaming headline from yesterday's Daily Mail: "Good news for Olympians! Sex before sport WON'T ruin your medal chances."
Which is just as well, seeing as US footballer Hope Solo told ESPN that there was a lot of it going on. Swim star Ryan Lochte guessed that 70-75 per cent of the athletes were "doing it" and there are stories about how many free condoms there are at the village - estimates range from 70,000 to 100,000.
When you look at it like that, Laundromat man has some catching up to do. We need to hook him up with Dennis.