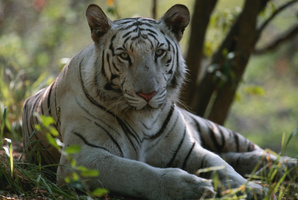 A Chilean worker at Santiago's Metropolitan Zoo has been mauled by a white tiger that escaped from its cage and was later shot dead by zoo staff, officials say.
Jose Silva, who has worked at the zoo for 25 years, was rushed to a hospital with serious wounds including a grave shoulder injury, local media reported on today.
The white tiger, called "Pampa", attacked Silva when the zoo worker opened the cage to feed it.
Zoo authorities quickly activated an alert and shot the animal dead, said director Mauricio Fabre.
"We had to neutralise the specimen with a firearm, and we managed to rescue the worker soon after and rush him to the hospital," Fabre told radio station Cooperativa.
The zoo said it has opened an internal investigation to determine how the tiger got out of its cage.
The tiger had come to the zoo from Argentina seven years ago, officials said.
- AFP