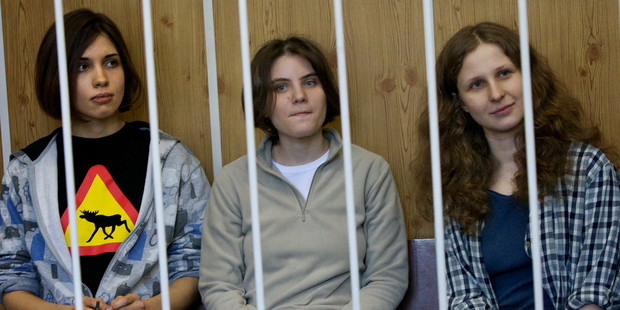 Three women who staged an anti-Putin protest on the altar of Russia's main cathedral are due in court today in a case seen as a test of tolerance of dissent in Russia.
The activists, from the feminist punk-rock band 'Pussy Riot', were jailed in late February after taking to the altar of Moscow's Christ the Saviour Cathedral and belting out a song in front of Putin calling on the Virgin Mary to "throw Putin out!"
Russia has promised that the trial will be transparent, and plans to broadcast it online.
The trial will illuminate just how much power the Russian Orthodox Church, which has enjoyed a revival since the collapse of the Soviet Union in 1991, has over the country's justice system. While some, such as church head Patriarch Kirill, believe the actions of the women were blasphemous, others believe they were brave, standing up for a generation of people dissatisfied with Vladimir Putin's 12 year rule in Russia.
The women have been charged with hooliganism by religious hatred or hostility, and face up to seven years in jail if convicted.
Huge international names have put their support behind the women as their trial has drawn nearer, including Red Hot Chili Peppers' Anthony Kiedis. He recently wore a Pussy Riot t-shirt on stage and wrote, with bassist Flea, a letter of support to the women.
"I think about you all the time," wrote Flea. "I applaud your bravery and I pray for your release. I will try to make as many people aware as I can."
The women have been labeled 'prisoners of conscience' by Amnesty International.
Although the political protests in Russia have died down recently, more are planned. The trial will be a test for Putin and Pussy Riot's movement.
- Herald Online