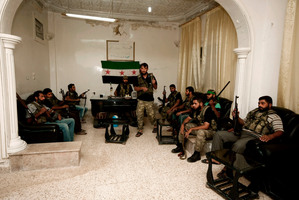 The United States has warned the Syrian regime may be preparing to carry out a massacre in the city of Aleppo, but stuck by its position that there would be no US military intervention.
"This is the concern, that we will see a massacre in Aleppo, and that's what the regime appears to be lining up for," State Department spokeswoman Victoria Nuland said.
She pointed to "credible reports of columns of tanks" waiting to attack Syria's second city, where fighting has raged between regime troops and rebels seeking to oust President Bashar al-Assad.
A Syrian security source told AFP the army was preparing for an all-out assault in densely populated Aleppo as clashes shook parts of Damascus and other areas.
The rebels have also brought in reinforcements, with an estimated 1500 and 2000 opposition fighters arriving from outside Syria's most populous city to reinforce some 2000 already fighting inside Aleppo.
"The concern are the columns of tanks outside the city, that they seem to be massing for an attack, the fact that you now have not only helicopter gunships but fixed-wing aircraft, which is a serious escalation in this conflict," Nuland told journalists.
"Our hearts are with the people of Aleppo.
"And again, this is another desperate attempt by a regime that is going down to try to maintain control, and we are greatly concerned about what they are capable of in Aleppo."
But she stuck to the US position of only providing non-lethal assistance to the opposition rebels who have been fighting for 16 months to topple Assad.
"We do not believe that pouring more fuel on this fire is going to save lives. We are working in non-lethal ways. We are working to support the Syrian opposition," the spokeswoman told journalists.
And Nuland insisted that unlike in the recent conflict in Libya, where rebels battling long-time leader Muammar Gaddafi were aided by a NATO no-fly zone, "the vast majority of Syrians continue not to want foreign military intervention, more weapons flowing into their country".
- AFP