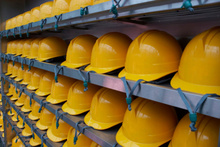 Seven miners have been killed in an explosion at a coal mine in northern Mexico, police say.
"We confirm the recovery of the bodies of the seven trapped miners," police official Francisco Martinez said in a statement.
"All indications are that the explosion was caused by a pocket of accumulated gas," Martinez said.
Police said earlier that the seven miners were men aged 22 to 39.
The mine is in the municipality of Muzquiz, in the state of Coahuila, which borders the US.
Coahuila has seen a series of fatal mining accidents in recent years, including a 2007 disaster at the Pasta de Conchos mine that claimed 65 lives.
In a report published in November 2011, the country's human rights commission denounced the poor conditions in mines in the state.
-AFP