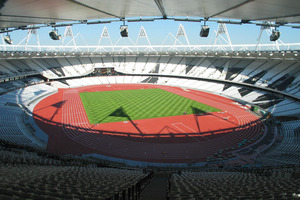 The UK reporter was able to buy NZ-only tickets for events at the Olympic Stadium in London. Photo / LOCOG
A UK tabloid newspaper journalist has managed to buy Olympic tickets reserved for New Zealand fans.
An undercover reporter for the Daily Mirror was able to the tickets from Cartan Tours, the official ticket agent for 40 nations, including New Zealand, at a London hotel.
Two-thirds of Britons who applied in the original draw for tickets missed out, the Mirror reported, and hundreds of people queued at the Ibis Styles Hotel to buy tickets unsold by overseas Olympic committees.
"Cartan, the official ticket agent for 40 nations, is only allowed to sell tickets to people who live in those countries," the reporter wrote.
"But when I admitted I was British, a Cartan official suggested I asked someone else to buy the tickets for me.
"Two Mexican football fans were happy to help but when we reached the front of the queue, we were given our pick of tickets without being asked for any identification.
"I bought two tickets issued to the New Zealand National Olympic Committee to see the athletics finals in the Olympic Stadium on August 3 for £380 (NZ$745)."
New Zealand athletes are not participating in London's Olympic Stadium on that day, but the ticket holders will be able to watch the women's 10,000m final, the men's shot put final and the first round of the women's 100m.
The reporter said Cartan was also marking-up the ticket prices between 23 percent and 40 percent. Ticket resellers are allowed to charge an extra 20 percent.
A spokesperson for the London Organising Committee of the Olympic and Paralympic Games told the Mirror they would investigate the incident.
New Zealand Olympic Committee spokeswoman Ashley Abbot told a press conference this morning the report was concerning, and had been told by Cartan Tours there had been a "breakdown in their verification process" and would take steps to ensure it would not happen again.