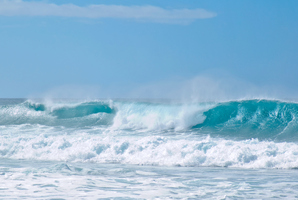 The Australian Navy's decision to power its big fleet base near Perth by waves may be just the beginning of mining the ocean's potential for the nation's energy needs.
A study by federal science agency CSIRO has confirmed the navy is steering the right course by signing up with Western Australia's Carnegie Wave for a system that is expected to supply all of HMAS Stirling's electricity by the end of next year.
The study concluded that waves could provide 10 per cent of Australia's energy needs by 2050 - enough to power a city the size of Melbourne - with further potential from tides, currents and thermal energy.
These could supply important niche markets, through tidal power in the Kimberley region of northern WA and the Banks Strait off Tasmania, energy from ocean currents along the eastern seaboard, and thermal energy off far north Queensland. The main potential for wave power lay in Perth, the continent's southern coastline and, to a lesser extent, the east coast.
The study said that in raw terms, without taking into account technical, economic or other barriers, the wave energy between Geraldton in WA and the tip of Tasmania could power the whole of Australia five times over.
The reality is likely to be much more modest, although still significant.
The study found that despite its potential, wave energy faced many economic, technological, environmental and social hurdles.
Among the wider implications, further studies were needed to determine the positive and negative impacts on marine protected areas, indigenous land, shipping, tourism, recreation and real estate values, aquaculture and fisheries, mineral exploration and mining, defence and security.
Key among them will be the new network of marine reserves - the largest in the world - covering more than three million sq km of Australia's coastal waters and subject to tight environmental and commercial rules.
The study also said wave energy converters needed to be developed to withstand the hostile ocean environment for one or two decades.
The global wave energy sector is tipped be worth US$760 billion ($918 billion) by 2050 and provide annual revenue of US$100 billion by 2025.