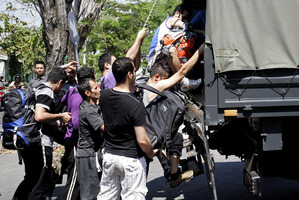 The Indonesian navy has begun deploying ships to the country's southern waters in efforts to stem the flow of asylum seekers to Australia.
A spokesman for the Indonesian Defence Ministry confirmed on Monday that the deployment was already under way and would include vessels capable of being at sea for extended periods.
It follows talks in Jakarta last week between Australian Foreign Minister Bob Carr and his Indonesian counterpart Marty Natalegawa.
Prior to that meeting, a high-ranking officer with the Indonesian navy revealed plans to boost patrols in the Sunda Strait, between Java and Sumatra.
The strait has become the main thoroughfare used by people smugglers sending boats from Indonesia to Christmas Island.
Defence ministry spokesman Brigadier General Hartind Asrin on Monday confirmed the deployment was under way.
"They're to be deployed around southern Java," he told AAP.
The deployment of the navy ships is also expected to increase Indonesia's capacity to deal with search and rescue operations.
Indonesia's search and rescue agency BASARNAS has only one small fibreglass-hulled rescue boat to deploy in the ocean between Java and Christmas Island.
However, that boat is not able to operate safely in waves higher than two or three metres.
"Of course we are sending bigger ships, warships, to cope with the conditions in the southern ocean," Brigadier General Asrin said.
Two asylum seeker boats sank en route to Australia last month, leaving more than 90 people dead.
Australian authorities were forced to take the lead in both rescue operations, as well as a number of incidents involving other asylum seeker boats in distress, despite the vessels being in Indonesian waters.
The Australian government continues to face pressure over the asylum seeker issue following the arrival of 12 boats in the space of a week.
A boat carrying an estimated 123 asylum seekers was intercepted by an Australian navy vessel east of Christmas Island on Monday morning, followed by another boat carrying 36 that was stopped at the Cocos Islands.
- AAP