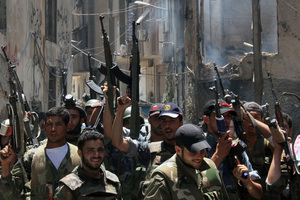 Regime troops stormed the Barzeh district of Damascus, scene of heavy clashes in recent days, as fighting engulfed several neighbourhoods of Syria's second city Aleppo on Sunday (local time), a watchdog said.
"Troops have stormed the northwestern Barzeh district of Damascus with tanks and armed personnel carriers,'' the Syrian Observatory for Human Rights said, noting snipers had been deployed on the district's rooftops.
"Two helicopters are pounding the Barzeh district, and towers of smoke are rising above the neighbourhood,'' the Observatory's Rami Abdel Rahman said. "The deployment in Barzeh is very heavy.''
Regime forces also deployed in the outskirts of the Mazzeh district of the capital, he said, adding one person was killed there on Sunday and several were wounded.
Elsewhere, clashes engulfed several districts of Aleppo, scene of heavy fighting since Friday. Violence was reported around the Salaheddin and Sakhur districts, Abdel Rahman said.
The army's assault on Salaheddin began at dawn, in a bid to reclaim it from rebel hands, an anti-regime activist said.
"Violent clashes have been taking place since the early morning,'' the activist said on condition of anonymity.
A total of 164 people were killed in violence across Syria on Saturday (local time), including 86 civilians, 49 soldiers and 29 rebel fighters.
Of those killed on Saturday, 27 civilians died in the embattled central province of Homs, including two women and six children in the rebel-held town of Rastan, which regime forces have shelled violently for several months.
In Damascus, those killed included a senior army general and weapons expert, assassinated by "unidentified gunmen'' alongside his wife and two children in the historic district of Bab Touma, according to the Observatory.
-AFP