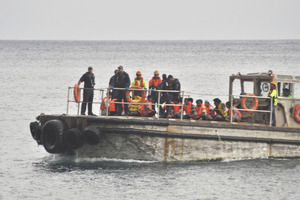 Australian men's magazine Zoo Weekly says it will apologise after backing off from a controversial search for "Australia's hottest asylum seeker".
The decision comes after an online petition condemning the stunt gathered thousands of signatures.
The article - which was published after a number of asylum seeker drownings, asked: "Are you a refugee not even the immigration minister could refuse? Then we want to see you! We're looking for Oz's hottest asylum seeker, so if you've swapped persecution for sexiness, we want to shoot you (with a camera - relax!)"
Zoo editor Tim Keen said an apology will be made to asylum seekers, their families, and will be published in this week's issue of the magazine.
Greens senator Sarah Hanson-Young has also received an apology after her image was photoshopped onto a bikini-clad model on the magazine's website.
Mr Keen said the magazine was happy to print an apology to readers who were offended by its take on a "very serious topic".
- HERALD ONLINE