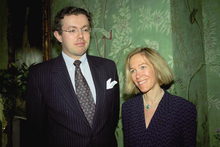 The body of Eva Rausing, the wife of the heir to the Tetra Pak billions, was found rotting under a pile of clothing and plastic bags duct-taped together two months after she was last seen alive, a court heard yesterday.
Officers made the gruesome discovery on the second floor of an annexe of the luxury Chelsea home which Mrs Rausing shared with her husband, Hans, last Monday.
Mr Rausing appeared before a judge yesterday at West London magistrates' court charged with preventing the decent burial of his wife's body, which was found after he was stopped by police on suspicion of driving under the influence of alcohol or drugs.
The heir to the Tetra Pak drinks carton empire, wearing a beard and glasses, looked frail and spoke only to confirm his name, date of birth and address. District Judge James Henderson granted him conditional bail, saying that he must remain at an independent psychiatric hospital in central London.
The judge stipulated that he must "live there and sleep there overnight, and not leave that hospital unless accompanied by a member of staff".
Mrs Rausing died of a suspected drug overdose and was said to have looked unwell when last seen in public on 3 May. Both her face and one of her legs were reportedly swollen. Her body was in an "advanced state of decomposition" when it was found.
Her death is being treated as unexplained and an inquest was opened and adjourned at Westminster Coroner's Court last Friday. Her father, Tom Kemeny, has paid tribute to her, saying: "At the time of her death, her overriding concern was for the safety of her beloved husband, for whom she interrupted her own treatment to return to London in an attempt to take him back with her to California, but tragically to no avail."
Mr Kemeny said his daughter was "a beautiful, generous, and fun daughter, wife, mother, sister and aunt", adding: "Eva and Hans Kristian adored each other and their four beautiful children. When not in London they would have family holidays with their cousins and extended family, without any glitz or glamour." In a statement issued after the hearing, Mr Rausing's parents said: "Hans and Marit Rausing and their families are mourning the death of their son's beloved wife, Eva.
"Her death, and the details of subsequent events, are a reminder of the distorted reality of drug addiction. They desperately hope that their dear son, Hans, may find the strength to begin the long and hard journey of detoxification and rehabilitation. They ask now for some privacy to grieve."
By Kevin Rawlinson of The Independent