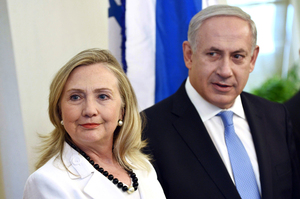 Several Palestinian journalists have boycotted a press conference with US Secretary of State Hillary Clinton in Jerusalem after the Israeli secret service attempted to strip search them.
The journalists said they were picked from among all Israeli and foreign journalists invited by the US consulate to attend Monday's briefing with Clinton, who was supposed to speak about her meetings with Israeli officials and Palestinian Prime Minister Salam Fayyad.
Clinton arrived on Sunday night in Israel and held several meetings on Monday with Israeli officials including Prime Minister Benjamin Netanyahu and President Shimon Peres. She met Fayyad in Jerusalem.
When the Palestinian reporters arrived at the briefing at the hotel Clinton was staying in, they were ordered by the Israeli secret service into a special room and ordered to strip.
The journalists refused the strip search and decided not to attend the meeting.
The Palestinian Journalists Syndicate protested what it described as "the humiliating treatment" the journalists received at the hotel, despite being invited by the US consulate to attend the meeting.
- AFP