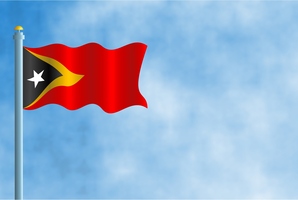 The streets of East Timor's capital Dili are generally calm, but sporadic acts of violence are continuing after a weekend of unrest.
Dozens of cars were torched and security personel fired shots in the air on Sunday night to disperse crowds as violence broke out in the wake of recent parliamentary elections.
The head of East Timor's police, Longuinhos Monteiro, said one person had been killed and four policemen had been injured in clashes in the capital, the Associated Press reported.
However, the situation had since largely been brought under control.
"It's just started to go off in the past hour as well. Most of it seems to be happening outside Fretilin headquarters," a witness in Dili told AAP on Monday.
"But at the moment it's settled down. We're getting security alerts saying 'Don't go to this area, don't go to that area', but it's nothing like it has been in the past."
"We heard a few shots last night but that's basically police shooting in the air to disperse people."
There have been reports that the protesters were supporters of Fretilin, which finished second in the elections held on July 7.
East Timor was racked by pre- and post-election violence in 2006, leading to the deployment of international forces including about 400 Australian troops.
Along with a contingent of just under 1000 United Nations security personnel, they are scheduled to withdraw later this year.
A spokeswoman for the United Nation's mission in East Timor, Sandra McGuire, confirmed there were a number of incidents of violence in Dili overnight, and in areas outside the capital.
But Ms McGuire told Radio Australia that local authorities had controlled the situation and calm had been restored.
The unrest comes in the wake of elections which were set to return Xanana Gusmao as prime minister after his National Congress for Timorese Reconstruction (CNRT) party won 30 seats in the 65-seat parliament.
The CNRT has invited a number of smaller parties to join it in forming a coalition government, but has excluded Fretilin.
-AAP