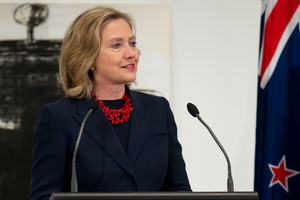 US Secretary of State Hillary Clinton. Photo / Simon Baker
United States Secretary of State Hillary Clinton has called for a ceasefire in Syria to let United Nations observers enter a village where more than 150 people were reportedly killed.
"We call for an immediate ceasefire in and around Hama to allow the UN observer mission to enter Treimsa. Those who committed these atrocities will be identified and held accountable," Clinton said in a statement.
Syrian activists say more than 150 people - including dozens of rebels - were killed in Treimsa this week. Clinton said in a statement that more than 200 were killed.
Clinton said reports of the use of artillery, tanks, and helicopters were "indisputable evidence that the regime deliberately murdered innocent civilians."
"As long as the Assad regime continues to wage war against the Syrian people, the international community must keep increasing the pressure on the regime to halt the violence and allow for a political solution to go forward," Clinton added.
Abdellatif Zayani, head of the six-nation Gulf Cooperation Council, branded the killings "a savage, terrorist act contrary to the precepts of Islam" and urged the United Nations Security Council "to put an end to the painful tragedy of the Syrian people."
The secretary general, whose organisation groups Saudi Arabia with Bahrain, Oman, Kuwait, Qatar and the United Arab Emirates, called for action under the world body's Chapter VII, which could clear the way for military action.
He also urged a full investigation.
Clinton also stepped up demands for the deadlocked UN Security Council to pass a resolution ordering sanctions against President Bashar al-Assad's government if he does not carry out the peace plan of international envoy Kofi Annan.
Russia, Syria's main international ally, has rejected calls for sanctions.
"The Security Council should put its full weight behind the Annan plan for an immediate ceasefire and a political transition and make clear to the Syrian regime that there will be consequences for non-compliance," Clinton said.
"History will judge this council. Its members must ask themselves whether continuing to allow the Assad regime to commit unspeakable violence against its own people is the legacy they want to leave," she said.
- AFP