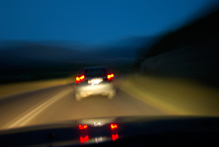 Ebony Dunsworth's final text message to her best friend was a chilling insight into the horrible fate that awaited her.
"Lol I'm gonna die," she wrote.
Less than an hour later the 16-year-old's life ended when a speeding, drunk, angry and erratic young male driver rolled the car in which she was a passenger.
Ebony was thrown from the vehicle and fatally crushed.
The driver, Timothy Watson, 23, faced a pre-sentence hearing in the Victorian County Court on Friday. He has pleaded guilty to culpable driving over the crash at Nar Nar Goon last October.
Ebony's family and friends spoke of how they have been forever deprived of enjoyment with the young woman they loved, of how Ebony never got to celebrate her 17th birthday, or go to her debutante ball.
"Now to celebrate anything with her I take balloons and sit beside her grave," Ebony's mother, Helen Crichton, told the court.
"Ebony has missed out on a lifetime of life. The only thing Ebony did wrong was trust an adult."
That adult was Watson who had a blood alcohol concentration of 0.139 and, according to other passengers, reached speeds of up to 180km/h before the crash.
Shortly after sending her predictive text, Ebony had a final phone conversation with her friend, Amelia Campbell.
Ebony said she was with some guys who had been drinking and driving at 100km/h in a 40km/h zone.
Amelia told Ebony not to get back in the car if the driver was drinking and Ebony replied she wouldn't.
But she did.
As they drove, Watson and another passenger argued over a girl and his driving became erratic and fast.
Passengers urged Watson to slow down but he ignored them.
When Watson saw a roundabout ahead he began screaming and slammed on the brakes.
The car went over the roundabout, hit several road signs and rolled.
Judge Frank Gucciardo expressed his frustration that young men continued to use cars like toys, when in fact they were lethal weapons, at how much work still needs to be done in the area.
He even resorted to colourful language, wondering why young men are so "pissed off" these days.
Watson's barrister, Stewart Bayles, said his client, who has also pleaded guilty to two counts of negligent driving causing serious injury, was deeply remorseful for the crash and had himself been badly injured in it.
Judge Gucciardo will sentence Watson on July 27.
-AAP