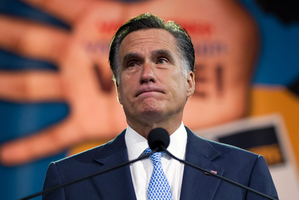 Republican White House hopeful Mitt Romney has made a bold pitch to black voters, but his vow to repeal President Barack Obama's health reforms drew a sustained chorus of boos.
Romney's address to the National Association for the Advancement of Coloured People (NAACP), America's largest civil rights group, was billed as a brave appeal to a voting demographic that overwhelmingly favours his opponent.
It was certainly a tough crowd and some cackled when the presumptive Republican nominee declared: "If you want a president who will make things better in the African-American community, you are looking at him."
Polite applause for his jobs pitch was accompanied by some raised eyebrows when he said the nation's first black president had left the economy "worse for African-Americans in almost every way."
But he ran into what was perhaps the most negative reaction to anything he has said on his year-long White House campaign when his pledge to repeal Obama's landmark health care reforms was met with loud and sustained boos.
Blacks voted overwhelmingly for Obama over Republican John McCain in 2008, but with US unemployment above eight per cent for 41 straight months and a recent spike up to 14.4 per cent jobless among blacks, Romney hopes to win over disaffected voters.
The dissent vocalised at the annual convention of the NAACP, exposed the uphill battle Romney faces in coming months to convince minority voters he is the best man for the White House.
In his speech, Romney spoke about the need to tamp down excessive government spending. "To do this," he said, "I will eliminate expensive non-essential programs like Obamacare."
Before Romney could finish his sentence, the boos rained down loudly, lasting more than 20 seconds.
Romney recovered, and his supporters took to Twitter to praise the candidate's determination to lay out his political platform before a deeply pro-Obama crowd.
The former Massachusetts governor argued that Obama's presidency, while historic, has not lifted enough Americans from poverty, and is leaving many black families behind.
"If equal opportunity in America were an accomplished fact, then a chronically bad economy would be equally bad for everyone," Romney said.
"Instead, it's worse for African-Americans in almost every way. The unemployment rate, the duration of unemployment, average income, and median family wealth are all worse for the black community."
Romney said he was confident his policies "will help hundreds of millions of middle-class Americans of all races, will lift people from poverty, and will help prevent people from becoming poor."
Blacks are widely expected to back Obama, the first African-American president, in November, but the crucial question in a neck-and-neck race is whether Romney can lure enough black voters to make a difference in swing states like Florida and North Carolina.
- AFP