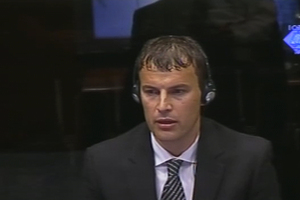 A survivor of a 1992 mass execution in Bosnia broke down in tears at the war crimes trial of Bosnian Serb ex-military chief Ratko Mladic on Monday (local time), as he recounted how the war shattered his family.
Elvedin Pasic told the court in The Hague of the fear that had gripped him after he was captured by Bosnian Serb soldiers in November 1992, when he was just 14 years old.
Pasic, the prosecution's first witness, said he had been so afraid that he gave up the final chance to say goodbye to his father, who had been separated from him after the capture.
Now 34, Pasic and other Bosnian Muslims were captured as they fled their village of Hvracani in northern Bosnia to escape attacks by the Bosnian Serb army.
The women and children, Pasic among them, were separated from the men, then marched up to a school in the nearby village of Grabovica.
Pasic's father and uncle had insisted he go with the women and children, he told the court - and that had saved his life.
"At first I didn't want to go, but my dad said 'Get up'.
"My uncle insisted, and he said 'Get up, you'll survive'. I was the last boy from our group," Pasic told the judges before the International Criminal Tribunal for the former Yugoslavia (ICTY).
In Grabovica, the women and children were held in the school's classroom. Later the same night the male prisoners arrived.
Pasic had a final chance to say good-bye to his father who was being held captive in a different classroom.
But he did not go, afraid that he would give away his father who earlier told soldiers he had no family.
"I was afraid. I didn't go, I wish I went, I wish I went...," said Pasic, before breaking down in tears.
The next morning, Pasic and his group of women and children were forced to run for a waiting bus by angry Bosnian Serbs who screamed at them and beat them with sticks.
As the bus pulled away, "I turned around... I will never forget it... on my right on the second floor there was a hand (of one of the Muslim male prisoners) waving."
"I still see that hand in my dreams," said Pasic.
The men were never seen again.
Mladic, 70, has been indicted by the ICTY on 11 counts of genocide, war crimes and crimes against humanity for his role in the Balkan country's war.
As the prosecutors opened their case, thousands lined the streets of Sarajevo to pay their respects to the remains of 520 victims of the Srebrenica massacre who will be buried on the 17th anniversary of the atrocity.
Three trucks loaded with 520 coffins passed through Sarajevo on their way to the Potocari cemetery near Srebrenica where they will be buried on Wednesday.
Mladic faces charges relating to the massacre in the enclave of Srebrenica in northeastern Bosnia in 1995, when almost 8,000 Muslim men and boys were murdered by Bosnian Serb troops under Mladic's command.
He also faces charges for the terrorising of the capital Sarajevo during 44 months of shelling and sniping which killed 10,000 people.
Prosecutors also hold him responsible for taking some 200 UN peacekeepers hostage and for allegedly ordering his troops to "cleanse" Bosnian towns, driving out Croats, Muslims and other non-Serb residents.
Mladic was arrested in northeastern Serbia last year after some 16 years on the run and subsequently moved to The Hague. He has pleaded not guilty to the charges. If convicted, he could face life in prison.
Pasic will be followed in the witness stand by UN advisor David Harland, who will describe the siege of Sarajevo, where 1,000 shells landed on average each day between 1993 and 1995, with the exception of lulls during a 1994 ceasefire.
Also among the first witnesses to testify will be Eelco Koster, one of the some 450 Dutch UN peacekeepers guarding the "protected" enclave at Srebrenica when it was overrun by Mladic's forces.
Former Bosnian Serb political leader Radovan Karadzic is also on trial before the ICTY, with both men accused of being the masterminds of a criminal plan to rid multi-ethnic Bosnia of Croats and Muslims.
Mladic's one-time mentor, former Serbian president Slobodan Milosevic died in The Hague four years into his own genocide trial in 2006.
- AFP