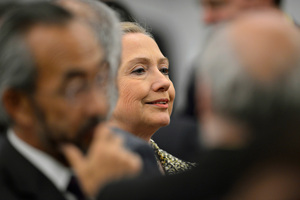 US Secretary of State Hillary Clinton has made a powerful plea for the rights of women in Afghanistan, using a global forum to insist they must be part of the country's future growth.
Her comments came as a horrific video emerged showing the public execution of a 22-year-old woman accused of adultery, amid fears that recent gains for women are under threat as NATO troops leave and Kabul seeks peace with the Taleban.
Clinton, addressing a world conference on Afghanistan's future, said: "The United States believes strongly that no nation can achieve peace, stability and economic growth if half the population is not empowered."
The top diplomat said the way forward "must include fighting corruption, improving governance, strengthening the rule of law (and providing) access to economic opportunity for all Afghans, especially for women.
"All citizens need to have the chance to benefit from and contribute to Afghanistan's progress.
The United States will continue to stand strongly by the women of Afghanistan."
But the execution video could renew concerns Kabul is not doing enough to protect women, particularly from honour killings, which were common during the Taleban regime that ruled from 1996-2001.
In the video, a woman named as Najiba is shot repeatedly in the back before a crowd of men in Qol village in Parwan province just north of the capital, Kabul.
The woman was married to a member of a hardline Taleban militant group and was accused of adultery with a Taleban commander, Parwan provincial spokeswoman Roshna Khalid told AFP on Sunday.
"Within one hour they decided that she was guilty and sentenced her to death. They shot her in front of villagers in her village, Qol," she said, adding that the execution took place late last month.
Following the shooting a villager handed the video over to the provincial government and "the security forces are preparing a big operation to find the culprits", she said.
The Afghan government issued a statement saying it "strongly condemns this un-Islamic and inhuman action by those professional killers and has ordered the Parwan police to find the culprits and bring them to justice".
US officials said Clinton had raised the issue of women's rights with Afghan President Hamid Karzai during her brief visit to Kabul on Saturday.
- AFP