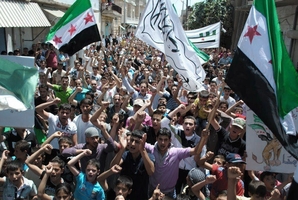 Protesters wave Syrian revolutionary flags and chant slogans during a demonstration. Photo / AP
Syrian President Bashar al-Assad has accused the United States of assisting "gangs" to destabilise his country, in a rare interview with a western television channel.
The United States is "part of the conflict. They offer the umbrella and political support to those gangs to ... destabilise Syria," Assad told German public broadcaster ARD.
Assad also refused to step down, saying he was staying put to deal with the "challenge" Syria is facing.
"The president shouldn't run away from challenge and we have a national challenge now in Syria," said Assad in English.
"The president shouldn't escape the situation, but from the other side you can stay as president, stay in this position only when you have the public support," he added.
He also said he would not rule out negotiations with Washington.
"We never close our doors in front of any country in this world and any official as long as they want to help in solving the problem in Syria - providing that they are serious and honest."
-AFP