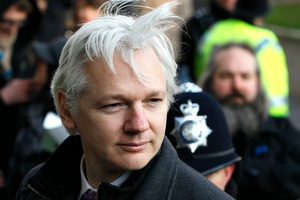 WikiLeaks has begun publishing more than two million emails from Syrian political figures which could shed light on a crackdown that has killed thousands.
The whistleblowing website says the first emails from Syrian political figures, ministries and companies were from August 2006 and the final ones dated March 2012, a year after the current bloody uprising in Syria began.
"The material is embarrassing to Syria, but it is also embarrassing to Syria's external opponents," said WikiLeaks founder Julian Assange, who is holed up in Ecuador's embassy in London seeking political asylum.
"It helps us not merely to criticise one group or another, but to understand their interests, actions and thoughts," he added in a written statement read out at a news conference in London.
"It is only through understanding this conflict that we can hope to resolve it."
The latest disclosures could illuminate the workings of the Syrian regime and its interactions with allies in the run-up to and during the 16-month conflict, which the Syrian Observatory for Human Rights says has claimed more than 16,500 lives.
The first wave of emails released today claimed Italian defence giant Finmeccanica continued to supply support for communications equipment to the Syrian regime after the unrest began in March last year.
The contract to supply the Syrian Wireless Organisation with high-tech radios made by Selex Elsag, a branch of Finmeccanica, dates to 2008, according to the emails published in Italy's Espresso magazine and by Spanish website Publico.
But Selex continued supplying engineers and assistance on the radios until recently, said the publications, two of WikiLeaks' media partners for the project it has dubbed "the Syria Files".
WikiLeaks said the 2,434,899 emails came from Syrian ministries including foreign affairs, finance and presidential affairs. There are around 400,000 emails in Arabic but also 68,000 in Russian.
The organisation is working with media partners Al-Akhbar in Lebanon, Al Masry Al Youm in Egypt, the Associated Press newswire, Espresso in Italy, NDR/ARD in Germany, Owni in France and Publico in Spain.
It has previously worked with media organisations including the New York Times and Britain's Guardian but these relationships later soured.
At a news conference in London, WikiLeaks spokeswoman Sarah Harrison refused to say how the emails were obtained, saying: "We never comment on our sourcing."
- AFP