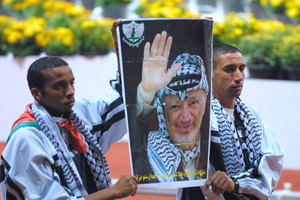 The Palestinians called today for an international probe into veteran leader Yasser Arafat's death after reports he may have been poisoned, raising the possibility of an exhumation.
The news came a day after Al-Jazeera broadcast the results of a nine-month investigation it commissioned on Arafat's 2004 death that found the Palestinian leader could have been poisoned with the radioactive substance polonium.
Senior Palestinian official Saeb Erakat called for a probe into Arafat's death.
"We call for the formation of an international investigation committee, modelled on the international investigation committee set up to look into the assassination of former Lebanese prime minister Rafiq Hariri," he told AFP.
Arafat's widow Suha Arafat, in an interview with AFP on Wednesday (local time), said she would push for her husband's body to be exhumed so further tests could be carried out.
"I will immediately address an official letter to the Swiss laboratory that conducted the tests ... to authorise the collection of samples from the remains of the martyr Arafat to verify the results and accelerate the uncovering of the truth about the assassination of Arafat," she said.
Tawfiq Tirawi, who led a Palestinian probe into Arafat's death, said Palestinian authorities would allow an analysis of samples from the leader's remains - which are buried in Ramallah on the West Bank - if his family agreed.
"After the Al-Jazeera broadcast, I met today with president (Mahmud) Abbas and recommended accepting an analysis of the body of the martyr president Arafat, and Abbas for his part agreed on the condition that the family ... accepts," he said prior to Suha Arafat's statement.
The Al-Jazeera investigation centred on forensic testing of items belonging to Arafat, including clothing worn by him that were handed to Suha by the Paris hospital where the Palestinian leader died in November 2004 at the age of 75.
Suha Arafat gave Al-Jazeera permission to take the items, which contained strands of Arafat's hair and traces of sweat, urine and blood, for testing at several European laboratories, including in Switzerland.
Francois Bochud, head of the Institute of Radiation Physics at the University of Lausanne, who cooperated with Al-Jazeera on the investigation, said the testing revealed high levels of polonium.
"The conclusion was that we did find some significant polonium that was present in these samples," he told Al-Jazeera.
But to confirm the theory that the Palestinian leader was poisoned by polonium it would be necessary to exhume and analyse Arafat's remains, Bochud said.
"If (Suha Arafat) really wants to know what happened to her husband (we need) to find a sample - I mean, an exhumation... should provide us with a sample that should have a very high quantity of polonium if he was poisoned," he said.
Polonium was used to kill Russian former spy turned Kremlin critic Alexander Litvinenko, who died in 2006 after drinking tea laced with the substance at a London restaurant.
Tirawi said the Palestinians would be willing to cooperate with Bochud's lab.
"We are in agreement that if the family of the martyr Yasser Arafat agrees, we will contact the Swiss lab in the coming days so that they can come and collect the samples they need," he told AFP.
Abbas spokesman Nabil Abu Rudeina told AFP the Palestinian Authority "is ready to cooperate fully and provide all necessary facilities to uncover the real reasons behind the illness and death of the former president.
"There is no religious or political reason that would prevent a reexamination of this question, including an examination of his remains, with the approval of his family."
Bochud said tests on Arafat's remains should be done as soon as possible.
"We have to do it quite fast because polonium is decaying, so if we wait too long, for sure any possible proof will disappear."
In a statement, the Hamas movement in Gaza - which strongly opposed Arafat and his Fatah movement for most of his life - also called for an investigation into his death, accusing Israel of murdering him.
"The beneficiary of this time is the Zionist enemy," a statement said, calling for a probe that would also uncover "those who collaborated or facilitated the task of the occupier."
Israel has denied accusations of having poisoned Arafat.
"If the Palestinians really want to know the truth they should simply demand that the French authorities had over to them the medical report written by the Percy Hospital, which has also been given to Arafat's widow," foreign ministry spokesman Yigal Palmor told AFP.
"If this report had been buried these past few years, it is undoubtedly because the widow and some Palestinian officials have something to hide," added Palmor.
Former Palestinian foreign minister Nasser al-Qudwa, who is Yasser Arafat's nephew, stated last November his conviction that Israel poisoned his uncle.