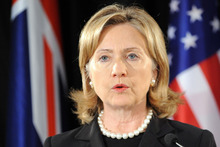 Pakistan has agreed to re-open key supply routes into Afghanistan, ending a bitter stand-off after US Secretary of State Hillary Clinton said she was sorry for the loss of life in a botched air raid.
A US official says that as part of the deal Washington will release about $1.36 billion (US$1.1 billion) to the Pakistani military from a US "coalition support fund'' designed to reimburse Pakistan for the cost of counter-insurgency operations.
The money had been frozen due to the tensions between the two countries.
The agreement ends a seven-month diplomatic row that has seen US-Pakistan ties, already soured by the US killing of al-Qaeda chief Osama bin Laden, plunge to a new low and gravely impede US and NATO efforts in Afghanistan.
The breakthrough, announced by Clinton after she spoke by telephone with Pakistani Foreign Minister Hina Rabbani Khar, follows months of negotiations.
Islamabad, a key but wary ally in the fight against Taliban militants, had steadfastly insisted Washington should apologise for the November attack when a US aircraft mistakenly killed 24 Pakistan soldiers.
"Foreign Minister Khar and I acknowledged the mistakes that resulted in the loss of Pakistani military lives,'' Clinton said in a statement.
"We are sorry for the losses suffered by the Pakistani military. We are committed to working closely with Pakistan and Afghanistan to prevent this from ever happening again.''
Pakistan confirmed it had decided to reopen the routes into Afghanistan, which are vital as the US and its Nato allies withdraw troops and equipment from Afghanistan ahead of a 2014 deadline.
"The meeting of Pakistan's defence committee (DCC) of the cabinet has decided to reopen the Nato supplies,'' the minister of information, Qamar Zaman Kaira, told reporters in Islamabad.
Pakistan's new Prime Minister Raja Pervez Ashraf, who chaired the meeting, also acknowledged it was time to end the blockade.
"The continued closure of supply lines not only impinge our relationship with the US, but also on our relations with the 49 other member states of Nato," he told top civilian and military leaders.
But underlining ever-present security fears, the deal drew a swift warning from the Pakistani Taliban that they would attack NATO supply trucks and kill the drivers if they tried to resume ferrying in supplies to Afghanistan.
Spokesman Ehsanullah Ehsan told AFP the Taliban "will not allow any truck to pass and will attack it''.
The blockade has forced the US and its allies to rely on longer, more expensive northern routes through Central Asia, Russia and the Caucasus, costing the US military about $124 million (US$100 million) a month, the Pentagon has said.
- AFP