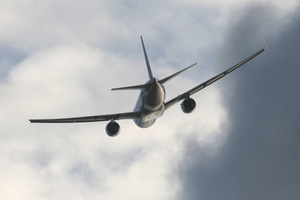 Airlines would reduce the occurrence of turbulence-related injuries to passengers and save money by flying further away from thunderstorms, new research shows.
A study, by the Centre of Excellence for Climate System Science, has recommended overhauling aircraft turbulence guidelines, which currently stipulate aircraft must stay 20 nautical miles, or 37 kilometres, away from the edge of thunderstorm cells.
Researcher Todd Lane says turbulence can affect aircraft up to 100 kilometres from a thunderstorm, which can modify airflow and enhance wind shear.
"We're certainly seeing situations where that 20 nautical miles is inadequate," Dr Lane told AAP.
Dr Lane said more sophisticated guidelines are required that are consistent with the underlying physics of the problem.
"This might mean that for certain thunderstorms you would recommend leaving a larger distance than the current recommendation," Dr Lane said.
While 97 per cent of injuries caused by turbulence occur when passengers are not wearing seatbelts, it's impractical to ask people to remain buckled for the duration of a flight, Dr Lane said.
Revamping guidelines would decrease the chance of passenger injury and also save the aviation industry money.
Dr Lane said rerouting aircraft around turbulence and performing the service checks necessary after such an encounter costs the industry $100 million a year.
"Those costs end up being passed on to the consumer indirectly so what we're talking about is a more efficient use of the airspace," Dr Lane said.
"Having new guidelines would feed into that more intelligent use of the airspace."
-AAP