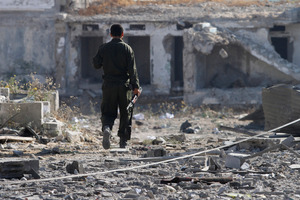 A leader of the ruling Hamas said Saturday the militant group had agreed to try anew an Egypt-brokered ceasefire with Israel, after six days of bloodshed in and around the Gaza Strip.
Hamas and "the Palestinian resistance factions will respect the truce as long as the (forces) of the occupation do the same and that's what we told our Egyptian brothers who demanded that we cease fire," Ayman Taha told AFP.
"The Egyptians have demanded that the (forces) of the occupation stop their aggression and have informed us that they are prepared to do so," he added.
"We told them that we shall respond to calm with calm; if the occupier stops (its attacks) there will be no further retaliation by the resistance factions."
An official close to the group said the truce would take effect from midnight (local time).
Earlier in the day Hamas threatened to call off a previous truce attempt announced on Wednesday which was unravelling, with Palestinian officials reporting three Palestinians killed and dozens wounded in seven Israeli air strikes Saturday.
An Israeli military spokeswoman said that by Saturday evening 24 rockets had slammed into into southern Israel from Gaza, with another five brought down by its Iron Dome air defence system.
More were said to have fallen at sea or inside the Gaza Strip itself.
A man in the town of Sderot was injured in one attack during the morning, Israeli police said.
The current round of Israeli attacks and Palestinian retaliation began with air strikes Monday morning, just hours after gunmen from Sinai carried out an ambush along Israel's southern border with Egypt, killing an Israeli civilian.
Israel has said its sudden spike in Gaza operations was "in no way related" to the Sinai border incident, with the military saying the air force was targeting militants poised to attack the Jewish state.
Since Monday Palestinians have reported 15 dead in Gaza strikes, with dozens wounded. At least 150 rockets and mortar shells have hit Israel, wounding five people, among them four border police officers.
- AFP