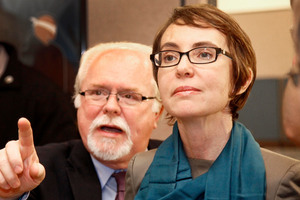 Arizonans go to the polls Tuesday (local time) in the first congressional elections of 2012, with Democrats expected to hold onto the seat vacated by Gabrielle Giffords after she survived an assassination attempt.
The first publicly released survey of the race, conducted by Public Policy Polling, shows former Giffords aide Ron Barber with a double-digit lead over Republican challenger Jesse Kelly, 51-43 per cent.
The special election is being watched closely for clues to the broader electoral map ahead of November.
"Democrats are unusually motivated to come out and vote to keep Giffords's seat in their hands," PPP said in a statement Monday upon release of the poll results.
The winner serves out the remaining months of Giffords's term, and will have a decided leg up in the November election.
Arizona's eighth district leans Republican, but Barber is clearly benefiting from widespread goodwill towards the retired congresswoman who has made what can only be described as a miraculous recovery after being shot in the head by a lone gunman in January 2011.
"There aren't many special House elections where the departing incumbent has a 67 per cent favorability rating, and that fact makes this a very difficult one for the (Republican) GOP to win," PPP said.
The shooting tragedy united Americans - and long-bickering US lawmakers - in grief.
It left six people dead, including a federal judge, a nine-year-old girl and a member of the congresswoman's staff. Barber, 66, was among the wounded.
The 42-year-old onetime rising star in the Democratic Party continues to speak haltingly and walks with difficulty, and decided to step down in January and concentrate fully on rehabilitation.
Until Monday the race had been seen as a nail biter, with internal polling in both camps showing the campaign going down to the wire.
Giffords campaigned with Barber at the weekend with her husband Mark Kelly, a retired Nasa astronaut, who told several hundred supporters in Tucson, Arizona that Tuesday's special election would be packed with emotion.
"This is a little bit about closure," Mark Kelly said. "This is closure on Gabby's career in Congress."
Giffords only briefly addressed the crowd to say thank you.
While President Barack Obama is hoping for a re-election victory over his Republican challenger Mitt Romney, Democrats are endeavoring to win back the House of Representatives, which Republicans took control of in 2010.
- AFP