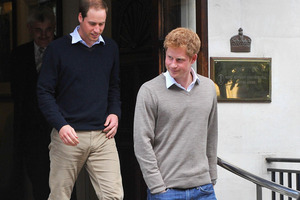 The Duke of Edinburgh finds out on his 91st birthday today whether he will have to spend it in hospital.
The Duke was admitted to the King Edward VII Hospital on Monday suffering from a bladder infection.
Yesterday, grandsons William, the Duke of Cambridge, and Prince Harry paid a short, private visit.
Prince Philip has already been visited by the Queen, his sons Andrew, the Duke of York, and Edward, the Earl of Wessex, with Countess Sophie and their children, Louise and James.
The Duke's next scheduled engagement is on Tuesday, when the Queen hosts a garden party at the Sandringham Estate to mark her Diamond Jubilee.
It is also hoped he will be able to accompany her to the East Midlands on Wednesday for a two-day visit as part of the Queen's Jubilee tour of the UK.
He spent Sunday braving the elements for the Thames River Pageant, which doctors suggested might have exacerbated his condition.
The palace said earlier this week that he was being treated with antibiotics and was in good spirits.
-AAP