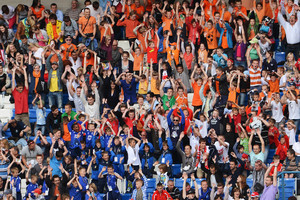 European football's governing body UEFA says that it was now aware of racist incidents at the Netherlands' public training session this week but it had not yet received an offical complaint from the Dutch.
"UEFA has now been made aware that there were some isolated incidents of racist chanting that occurred at the open training sessions of the Dutch team in Krakow," it said in a statement.
"UEFA has not yet received any formal complaint from the KNVB (Dutch football federation)."
Dutch skipper Mark van Bommel was quoted as saying in an interview published in De Telegraaf overnight NZ time that the Oranje heard racist chanting from some of the estimated 25,000 fans who turned up to watch them train at the stadium in southern Poland.
"We all heard the monkey chants," he told the newspaper. "We can't accept that. We reacted well and the situation was sorted."
"If any of us is targetted by monkey chants during our matches we won't accept it.
If we hear anything like that during a game, I'll immediately go to the referee to ask him to intervene."
Van Bommel, who has left AC Milan for PSV Eindhoven, was also seething at the UEFA representatives who were at the training session and claimed they had heard nothing.
"Open your ears. If you hear the chants but you don't wish to say you heard them, that is even worse," he said.
De Telegraaf previously reported that a handful of spectators had made monkey noises at the side's black players during the warm-up, forcing the squad to train away from fans.
A senior UEFA official had told AFP that some Polish supporters were unhappy at Krakow not being made one of the four Polish host cities for the tournament and made themselves heard.
UEFA's statement on Friday stops short of launching any investigation into the incident, which was reportedly short-lived, but it threatened to take action if there were any repeat.
"Should such behaviour happen at further training sessions, UEFA would evaluate the operational measures to be taken to protect the players," its statement said, without elaborating.
"UEFA has a zero tolerance policy when it comes to discriminatory behaviour and has given the power to referees to stop matches in case of any repeated racist behaviour."
Dutch legend Ruud Gullit has said he hopes the chanting was a one-off, warning that such incidents tarnished the Euro 2012 hosts' reputation.
"I think this is an opportunity for Poland and Ukraine to show the world what beauty they have, what the country has to offer,'' Gullit told reporters in Warsaw.
"It's a pity that a small group took the opportunity to abuse that view of your country. I hope that this was just an incident,'' the captain of the Euro 1988 winning Dutch squad said.
- AFP